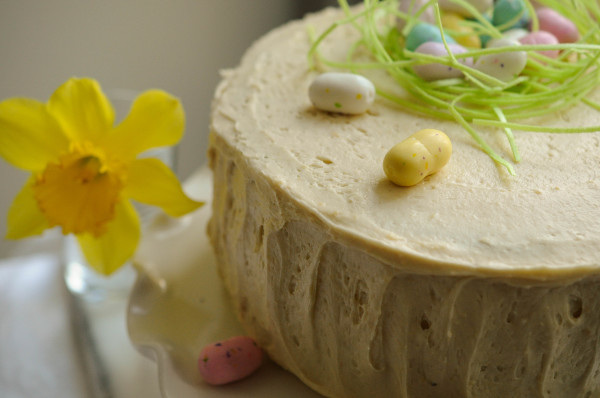 Malted Chocolate Easter Cake
I want to start this post with a big thank you to Jennifer Schmidt, a fabulous interior designer, owner of JWS Interiors and blogger. She highlighted my blog and favorite blueberry pancake recipe yesterday in her blog, Affordable Luxuries! If you love to look at photographs of beautiful rooms (many that she designed), photos of how to design tables for entertaining and even outfits ideas, you'll love her site. She inspired me to come up with a seasonal/holiday blog post and since Easter is around the corner, I thought it would be fun to try out a malted chocolate cake recipe and decorate with some malted chocolate Easter eggs.
These past three weeks, cake has also been the focus of class at L'Academie de Cuisine.
We made a vanilla cake with buttercream icing, layered with Nutella flavored buttercream. I practiced piping with a pastry bag as you can see around the sides of the cake.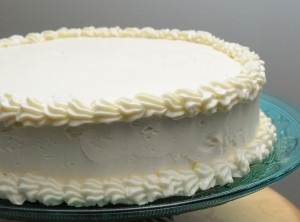 The cake was light and the icing tasted of velvety, hazelnut sweetness. It was hard to resist, but there was no way I was going to eat it all, so I sent it off to Jonah to feed his office.
We also made a rolled spongecake. I brushed the unrolled cake with the orange-flavored liquor, Grand Marnier, and topped that with chocolate mousse. Then we rolled the cake, iced it with hazelnut buttercream and poured chocolate ganache on top. It was insane how many things were incorporated in this cake!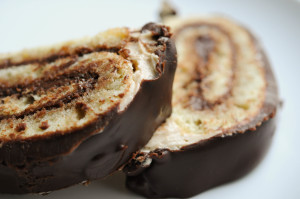 The cake was a mix of orange, rich chocolate and a hint of nuts. It was too much chocolate for me. When I make this cake again at home, I'll leave out the chocolate ganache (a cream and chocolate mixture).
I plan to follow up with these recipes in time, but to keep this post from getting too long, I'll jump to the malted chocolate cake recipe.
Here's all my ingredients. I like to use Valrhona unsweetened cocoa powder as my go to cocoa powder. Blogger David Lebovitz has a great primer on cocoa powders here.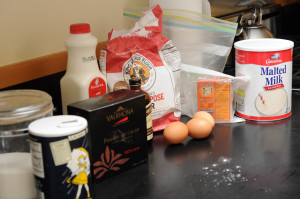 Three tips on cake baking to share.
When preparing a cake pan for baking, you generally need to butter it.
I used to take a little paper towel, put a pat of butter on it and rub it around the pan. Then add parchment paper ( I admit to buying pre-cut parchment liners), then butter it again, then coat it with flour. This is rather time consuming.
To shorten the process, I learned at school that you can use Crisco and a pastry brush instead. Dip the brush in the Crisco and onto the pan.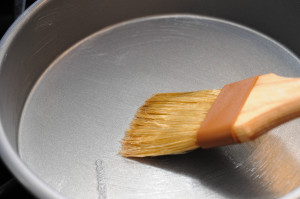 This prevents the cake from sticking. The only drawback to using Crisco is that it can cause a little bit of a crunchy edge on the cake. If that bothers you, you can slice the crunch off with a knife before icing.
Another tip from school. Use a food scale. I know this may seem ridiculous, but it actually cuts down on time and is more accurate for baking. With a scale, you can weigh an ingredient, then zero out the scale, and then add the next ingredient to the desired weight, then zero out the scale again, and continue until all your ingredients are in the bowl. It saves having to use extra bowls. I love my Salter scale, but there are many brands. Here's one on Amazon that isn't too expensive.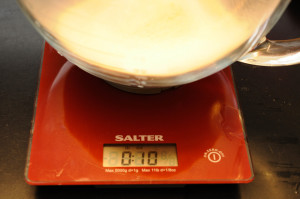 After I have mixed all the ingredients and poured it into the cake pans, I get the batter even, by weighing each pan. Once they are even, I put moistened cake strips around each pan. The idea is the strips keep the sides of a cake from baking more quickly than the batter in the center.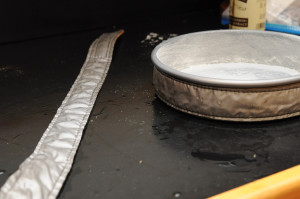 The cake turned out great. It is a combination of creamy, chocolaty and malt. It smells like a chocolate milkshake. The recipe comes from Chow.com, a San Francisco-based food site.  I adapted the frosting recipe because the original called for too much butter. Additionally, the original calls for coating the outside of the cake with malted milk balls, which I decided was unnecessary.
The cake was a bit denser than I would have liked, but as I let it sit, the cake got better and better.
Therefore, I would advise, if you have the willpower, make the cake one day before you plan to serve it.
Malted Chocolate Cake
Makes a 2-layer 8-inch cake
Adapted from a recipe from Chow.com
INGREDIENTS
2 cups (or 10 oz) malted milk powder
1 2/3 cups (or 6 3/4 oz) all-purpose flour, plus more for coating the cake pans
3/4 cup (3 1/8 oz) unsweetened cocoa powder
1/2 teaspoon fine salt
3/4 teaspoon baking soda
3 large eggs
1 1/3 cups (9 1/4) white granulated sugar
2/3 cup vegetable oil
2 teaspoons vanilla extract
1 1/3 cups whole milk
INSTRUCTIONS
– Heat the oven to 325°F and arrange a rack in the middle. Coat 2 (8-inch) cake pans with butter or Crisco and flour, and tap out any excess flour. Set aside.
– Combine the malted milk powder, flour, cocoa powder, salt, and baking soda in a large bowl. Whisk to mix together and break up any lumps. Set aside.
– Combine the eggs, sugar, oil, and vanilla in mixer bowl. Turn on mixer to lowest setting and mix to combine ingredients. Add a third of the flour mixture until just incorporated. Add half of the milk until smooth. Alternate between each until all of the ingredients are just incorporated and smooth.
– Divide the batter evenly between the prepared pans. Bake until a toothpick inserted in the middle comes out clean and the cakes start pulling away from the sides of the pans, about 45  minutes. Begin checking cakes around 35 minutes for doneness.
– Remove the cakes from the oven and transfer them to a wire rack to cool. Run a knife around the perimeter of each and turn the cakes out onto the rack to cool completely.
Malted Vanilla Icing
Enough Icing for 2-Layer 8-Inch Cake
Adapted from a recipe from Chow.com
INGREDIENTS
2 sticks (8 oz) unsalted butter, at room temperature
5-6 cups (1 to 1 1/2 lbs) of powdered sugar
1 cup (8 oz) malted milk powder
1/4 cup whole milk, at room temperature
2 teaspoons vanilla extract
1/4 teaspoon kosher salt
INSTRUCTIONS
– Combine butter and sugar in the bowl of a stand mixer fitter with a paddle attachment, and beat on low speed until sugar is incorporated.
– Increase speed to medium high and beat until mixture is light and whipped, about 3 minutes. Stop the mixer and scrape down the sides of the bowl and the paddle.
– Add remaining ingredients and return to low speed until ingredients are incorporated. Increase speed to medium high and continue whipping until frosting is evenly combined and light, about 3 minutes. If frosting is too thick, add a little more milk. Frosting can be made and refrigerated up to one week in advance. Bring to room temperature and whip again to ensure its smoothness.
I'm still working on my icing technique and it's complicated to photograph solo, so I'll send you to another blog, "Butter Me Up Brooklyn" for an idea of how to ice a cake.
Then, I found some edible grass from CVS and malted chocolate eggs to decorate. Happy Spring!