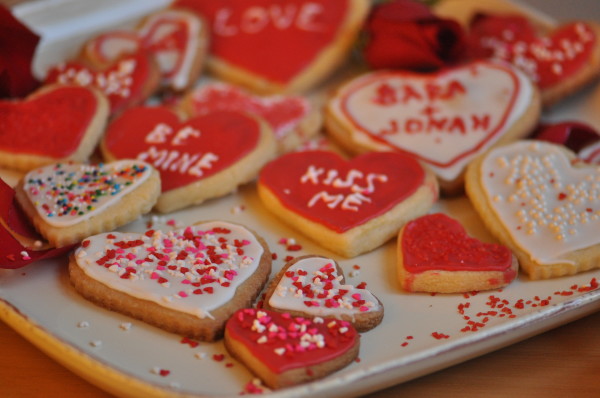 Valentine's Sugar
Back when my husband Jonah and I shared our first Valentine's Day, I can't remember exactly what we did, but I do remember the gift he gave me – Pablo Neruda's "100 Love Sonnets." I was definitely swept off my feet! The poems, inspired by Neruda's wife Matilde, are beautiful and easy to read. We both had seen and enjoyed the movie "Il Postino," an Italian movie that tells the fictional story of a postman who  befriends Neruda while delivering his mail. The poet teaches the postman to love poetry and to use it woo the woman he loves. If you can find it on Netflix, it's worth the watch.
Twelve years later, there is a little less romance, but we always try to do something nice for each other. Jonah makes the dinner, I make the dessert.
I decided to make sugar cookies and decorate them with fun sayings like "Kiss Me" and "Be Mine."
Still, I am reminded that there is a touch of sorrow to this day. I awoke this morning to hear radio host Garrison Keillor  telling the history of Valentine's day on his show, the Writer's Almanac. I remembered vaguely from my school days that the story was something about a saint, whose life ended badly. The legend is that sometime in the early years of the Holy Roman Empire, Emperor Claudius II forbade single men to get married as a way to boost military ranks. A priest named Valentine thought this was wrong and illegally continued to marry couples. He was caught and punished to death. While awaiting execution, he fell in love with his guard's daughter and on the day of his death, Feb. 14, 269 A.D., he wrote a love letter to her signed, "Your, Valentine."
It set me thinking about the connection between love, sweetness and sorrow. Once you love someone, you open yourself up to great joy, but also to sorrow.  Even in perfect relationships, there are times when you feel apart, or misunderstood. And of course, with time, all things end.
In this moment however,  (and all we ever have is this moment) I am grateful for all the love that I do have and am capable of giving on this day.
I've tried many different sugar cookie recipes and my favorite is a modified version from Martha Stewart. My husband loves them so much he says he cannot stop eating them.
Making the cookies is relatively easy.  The time consuming part is the decorating.
Holiday Sugar Cookies
Makes 4 dozen
About 11/2 hour prep including chilling
about 10 minutes baking time for each batch
Ingredients:
4 cups all purpose flour, plus more for working with dough
1 teaspoon baking powder
¾ teaspoon kosher salt
1 ¼ cups (or  2 ½ sticks) cold unsalted butter, cut into ½ inch pieces
1 ¾ cup sugar
1 large egg plus 1 large egg white lightly beaten
Directions
1. In a mixer, combine flour, baking powder, and salt. Add butter and mix on medium speed until mixture resembles course crumbs. Add sugar, eggs and mix until mixture resembles wet sand.
2. Turn mixture out onto a lightly floured surface, knead several times until dough comes together. Divide into 3 portions, and flatten with a rolling pin into a disk. Each disk should be about ½ inch thick. Wrap in plastic wrap. Stack dough on baking sheet, refrigerate for at least 20 minutes and up to a day. You can also freeze it for two weeks if it's tightly wrapped.
3. Preheat oven to 375 degrees. With racks in middle and lower thirds. Working with each disk, place it on floured surface, roll out to about 1/8 thickness. The dough may crack a little around the edges, do what you can to push it together, but don't worry too much about it, because it will end up in the scraps and will be rerolled. With lightly floured cutters, cut dough into desired shapes and arrange 1 inch apart on parchment-lined cookie sheets. Sprinkle with sugar, if desired, or wait until after cooked for decorating with royal icing.
4. Refrigerate for 15 minutes. Bake for about 7 to 9 minutes, depending upon your oven. Cookies should be set but still pale. Transfer to wire rack and cool completely.
Royal Icing
3 large egg whites, strained
1 teaspoon cream of tartar
1 pound confectioner's sugar
1. Using the paddle attachment on the mixer, mix egg whites on high speed for 10-15 seconds. Reduce mixing speed to stir/low.
2. Add the cream of tartar
3. Add the confectioner's sugar slowly, ½ cup at a time. Make sure to stop and scrape down bowl so all the sugar is incorporated.
4. Once all of the sugar is added, mix for 5 minutes on low.
5. If thicker icing is desired, add more sugar.
6. If thinner is desired, add a bit of water.
7. To store the icing, place plastic wrap directly on the surface and cover container with an airtight lid or an extra layer of plastic wrap. Icing will keep 2-3 days at room temperature or 2 weeks in the refrigerator.
Baker's Note: I create separate bowls of icing. One bowl has thick icing to create edges on the cookies for piping and another bowl with thin icing for dripping over the whole cookie. I also separate the icing so that I can create different color icing. Here's a YouTube video on how to decorate with royal icing on cookies.