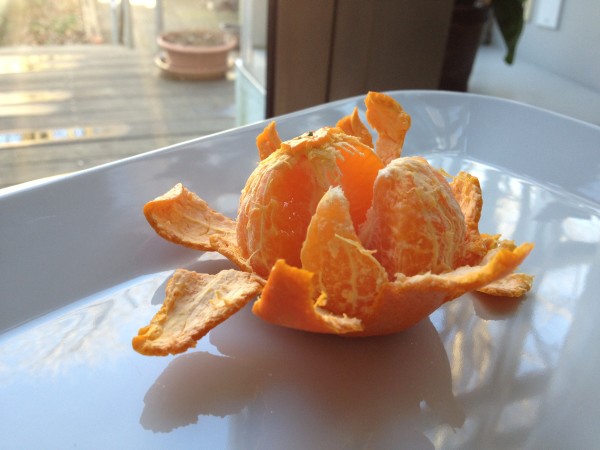 Secret Foods
I recently discovered the great food writer, MFK Fisher, and have totally fallen in love with her work.
Her essays about food and living in France in early 1900's have this lyrical quality that feel a bit like poetry. She wrote 27 books and remained an influential food writer until her death in 1992. In 2004, a collection of her essays was published called The Art of Eating. If you love reading about food, get it.
In her first book, Serve it Forth,  she spends a whole chapter talking about how everyone has a secret food they love. Her secret love was a tangerine, which she heated over the radiator. A cooked tangerine doesn't really appeal to me, but the way she writes about it, as a love "subtle and voluptuous" and the tangerine's "plump little pregnant crescents" made me want to eat one.

Alas, there weren't any tangerines at my local store, but there were clementines, called "sweeties" – perfect for Valentine's Day.  I brought them home.
I then began to promptly peel one, unleashing its warm, citrus, smell and sticky juice. The sweet smell stuck on my fingers as I popped each section into my mouth. As I was eating it, I thought about whether I have any secret foods that I eat. For awhile, I couldn't think of any. I am pretty open about my gusto for all food (except seafood) but then, in a flash, I remembered. When no one is home and I don't feel like cooking for myself, I have a popcorn dinner.
I love to microwave popcorn, pour it into a bowl, heat up some butter in a dish and then pour the liquid fat all over the popcorn. I sprinkle a little salt on it. Then I pour myself a glass of milk and sit in front of the TV and enjoy that mix of butter, salt and popcorn. Then I swig some milk. I feel a bit guilty about pouring all that butter over the popcorn. Just think of that butter clogging my arteries! And I'm secretly, totally enjoying it.