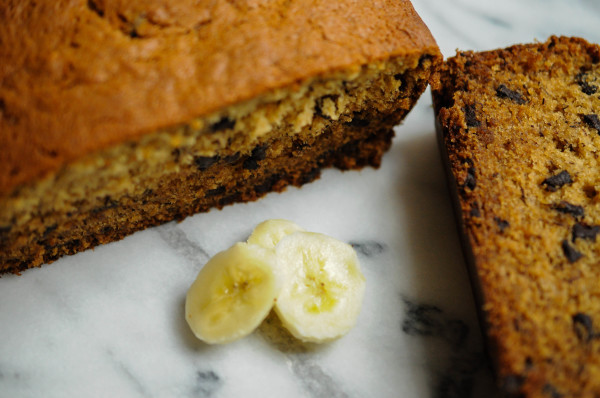 "This Town" Banana Bread
As I was reading Mark Leibovich's "This Town," a semi-delicious take down on Washington D.C.'s media and political culture, I started thinking about parallels to one of the many Woody Allen movies that I grew up watching called "Bananas."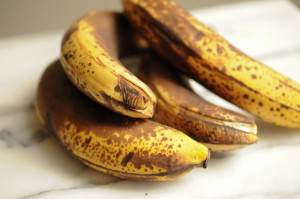 In the 1971 comedy, Woody Allen's character tries to impress his social activist girlfriend by visiting a poor country to help its people. The country he chooses is a fictional "banana republic" in Latin America and through a series of silly misadventures, ends up becoming the country's hapless leader.
In "This Town," Leibovich describes a whole group of people all trying to impress each other under the guise of helping the American people, but aren't really helping anyone but themselves. He describes lobbyists, media parties, and Hill staffers that use the media for their own cause and politicians that seem to be just using their public office to make money. I thought "It's bananas!" What happened to people really caring about solving policy problems?
For full disclosure, I have been a part of the culture Leibovich describes. For a decade, I was a senior reporter with a serious public policy magazine, National Journal. I wrote about those lobbyists, Hill staffers, law makers in "This Town" and I attended media parties like the famous White House Correspondents dinner. I had fun doing it too.
I stepped away from it all in 2010 when I took a buy out from my publication. I was no longer sure what the meaning of it all was when so much of the media emphasis seemed to be moving toward petty, "buzzy" stories and away from serious, explanatory journalism. Since then, I've pursued other writing on health care topics and the creative world of pastry. For the moment, that has meaning.
There has been lots of media attention about Leibovich's book because he is a reporter at the New York Times and journalists are characters in his book. While I knew many of Leibovich's characters in the book, and didn't learn a whole lot from reading his tale, I did find his description of President Obama particularly interesting.
Leibovich notes that most politicians in D.C. thrive on the energy of people sucking up to them all day, trying to win their vote. But not Obama. Leibovich covered Obama when he was a senator and he noted that Obama seemed to derive no energy from the various supplicants vying for his votes and attention.
Leibovich writes:
"Obama appears immune to the neediness that afflicts so many politicians. Any attempt to win his favor through praise was futile or counterproductive… Like Obama (his staff) possessed a quiet sense that the prevailing social lubricants of politics – the sycophancy, the gossip, and the cloying salesmanship- were not just distasteful but pathetic."
As I was reading the book, I kept walking by the ever ripening bowl of bananas in my kitchen and so I decided banana bread was calling. The great thing about banana bread is you can make use of those brown bananas instead of throwing them away.
I make a version inspired by my sister-in-law, who asked me if I could find a way to get chocolate into banana bread. I read up on a bunch of recipes and decided the best version was a combination of a recipe from Smitten Kitchen and Allrecipes.com, that also includes rum. You can always leave out the rum if you prefer.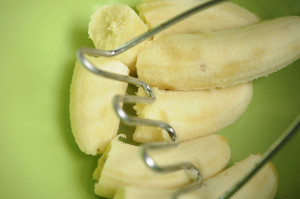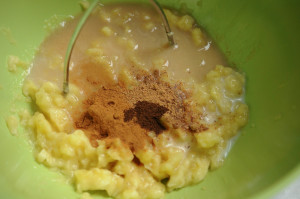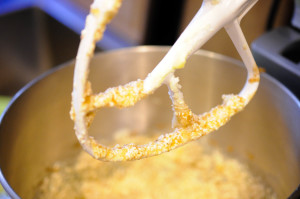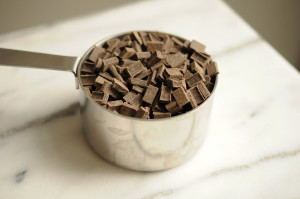 1. I smash the too ripe bananas with potato masher.
2. And dump all the ingredients in one bowl and mix them all together in a mixing bowl.
3. The batter doesn't look particularly appetizing, but the bread is really good when baked.
4. An important ingredient is the chocolate. I like to use chocolate chunks because they provide a nice chocolate burst with the banana and the chocolate isn't gooey.
Be careful with baking times. I've overbaked this bread a few times, so you have to watch the bread carefully the last 10 minutes by periodically poking it and pulling it out as soon as the batter no longer sticks to a toothpick or cake tester.
Chocolate Chip
Banana Bread

Makes 1 loaf
About 15 minutes prep and 1 hour baking time
Adapted from recipes by Smitten Kitchen and Allrecipes.com
Bread Ingredients
2 cups all purpose flour
1 teaspoon baking powder
1 teaspoon baking soda
1 teaspoon salt
3 ripe bananas, mashed
1 tablespoon milk
1 teaspoon ground cinnamon
1 teaspoon vanilla
1 tablespoon rum (optional)
½ teaspoon nutmeg
pinch ground cloves
½ cup butter, softened
1 cup white sugar
2 eggs
1 cup semisweet chunks or chips but chunks are preferable
Directions:
1. Preheat oven to 325 degrees. Grease 9×5 loaf pan, can use glass or metal
2. Mix flour, baking soda, and salt in bowl.
3. Stir bananas, milk, cinnamon, vanilla, rum, nutmeg, cloves in another bowl.
4. Beat butter and sugar in mixer until light and fluffy
5. Adds eggs to butter and sugar mixture, one at a time, beating well after each addition.
6. Stir in banana mixture. Stir in dry mixture until blended. Fold in chocolate chunks until combined. Pour into loaf pan.
7. Bake in preheated oven until a tooth pick inserted into the center comes out clean, around 1 hour, depending upon your oven.
8. Cool in the pan for 10 minutes before removing to cool completely on a wire rack before slicing.