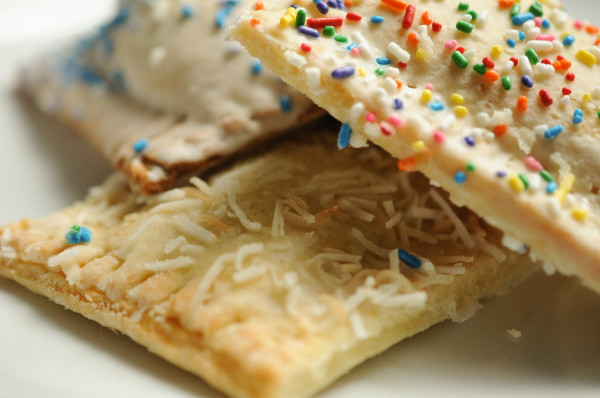 Ted's Bulletin's Homemade Pop-Tarts
OK, I love pop-tarts. Almost any flavor will do, but I am partial to the brown sugar cinnamon Pop-Tarts made by Kellog's. Stick them in your toaster oven for 4 minutes. Yum! Molasses tasting sugar and warm, crunchy tart dough.
Unheated, however, they are terrible. They taste like cardboard with some sugar.
If you look at the label, there is also all kinds of hydrogenated fats and corn syrup going on in those commercially-made Pop-Tarts.
So it was kind of exciting when I first walked into a local restaurant, Ted's Bulletin, and found homemade pop-tarts on the menu. The Capitol Hill restaurant just expanded to 14th Street in D.C., conveniently not far from my home!
As part of this blog, I'm giving my opinion on what the the D.C. baking and dessert scene has to offer. I had to buy a bunch of Ted's Bulletin's pop-tarts to find out if the execution was as good as the idea. Just for research purposes of course.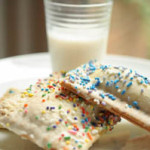 I bought blueberry, strawberry, (pictured above) coconut and chocolate salted caramel for my research.
The verdict? The blueberry and chocolate salted caramel Pop-Tarts were really good! The blueberry had a nice balance of sweet blueberry taste and flaky, buttery crust. The chocolate tart had a soft, chocolate-velvet taste and the salted caramel was the right mix of tang and sweet. Unfortunately, the coconut didn't have much taste, while the strawberry had a very heavy, jam-like taste that kind of overwhelmed the tart.
Here's what the strawberry pop-tart looked like inside.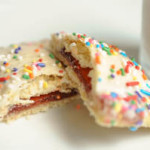 If you are in D.C., go try it for yourself. Here's Ted's Bulletin's website for locations. Ted by the way, was the father of Mark and Ty Neal, the brothers who founded the restaurant. Ted apparently was an awesome cook, known for his grilled cheese sandwiches, and inspired his kids to open a restaurant.
I haven't tried to make pop-tarts, but here are links to two recipes, one from Smitten Kitchen, and the other from Epicurious.