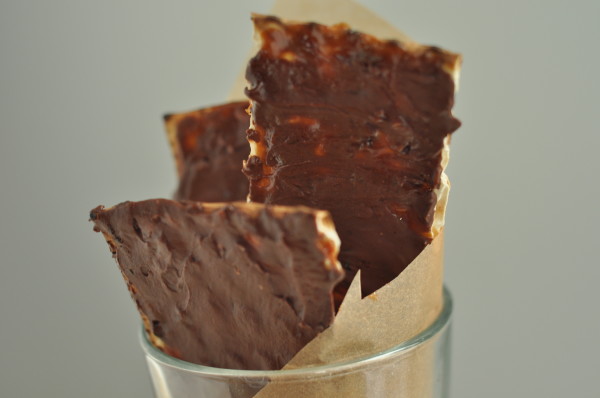 Sweet & Salty Dark Chocolate Caramel Matzo for Passover
In her autobiography, Prague Winter: A Personal Story of Remembrance and War, 1937-1948, Madeleine Albright talks about learning she had been born of Jewish descent, and never knew about it until the vetting process to become President Bill Clinton's Secretary of State. Her parents left the Czech Republic, eventually for America, abandoned Judiasm and raised her Catholic.
My father's parents were also Jewish and gave up their religion when they came to the United States from Milan. Like Albright, my father was raised Catholic. He didn't know of his family background until after my grandmother died when I was 12. I was baptized and our family had always celebrated Easter and Christmas, but upon learning of my father's history, I became interested in Jewish traditions.
I was fascinated by the story of Passover and that Easter and Passover are often celebrated around the same time. As Albright put it in an interview about her book:
Putting all the [Christian and Jewish] stories together, what it makes me think is the extent to which people have a need to believe … the idea that while we may be divided according to various religions, what is interesting is the similarities of the stories, of people yearning for something and being saved and having the hope of having a better life.
Many years later, I met my husband, who is Jewish, and I began to celebrate Passover and other holidays with his family. Perhaps it is my family roots, or my intellectual bent, but participating in Passover, Rosh Hoshanah (the Jewish New Year), Shabbat (the Friday meal marking the advent of the Sabbath) and other Jewish traditions has felt right for me. Slowly, I've been been teaching myself traditional Jewish holiday desserts.
One of the most accessible Passover desserts is chocolate caramel covered matzo. It's easy to make, and who doesn't love crunchy, chocolate caramel? Matzo, by the way, is the quintessential symbol of Passover. It is unleavened bread and tastes like a plain cracker. During the exodus from Egypt, the Jews didn't have time to let bread rise, so they ate unleavened bread. The history of this bread is retold as part of the Seder, the celebration meal that recounts the story of Passover. Here's a nice summary of the story in case you are interested.
The history of the chocolate caramel dessert begins in the 1950's when matzoh manufacturer, Manischewitz, published recipes that included a chocolate matzoh dessert, according to this story in the San Francisco Chronicle. At some point, someone started adding caramel, and the rest is history.
I came up with my own version this year, mostly because I had left over dark chocolate and caramel. If you don't like dark chocolate on your matzoh, this blog, Zoe Bakes, has a great recipe using milk chocolate and is the original that I used to create my recipe.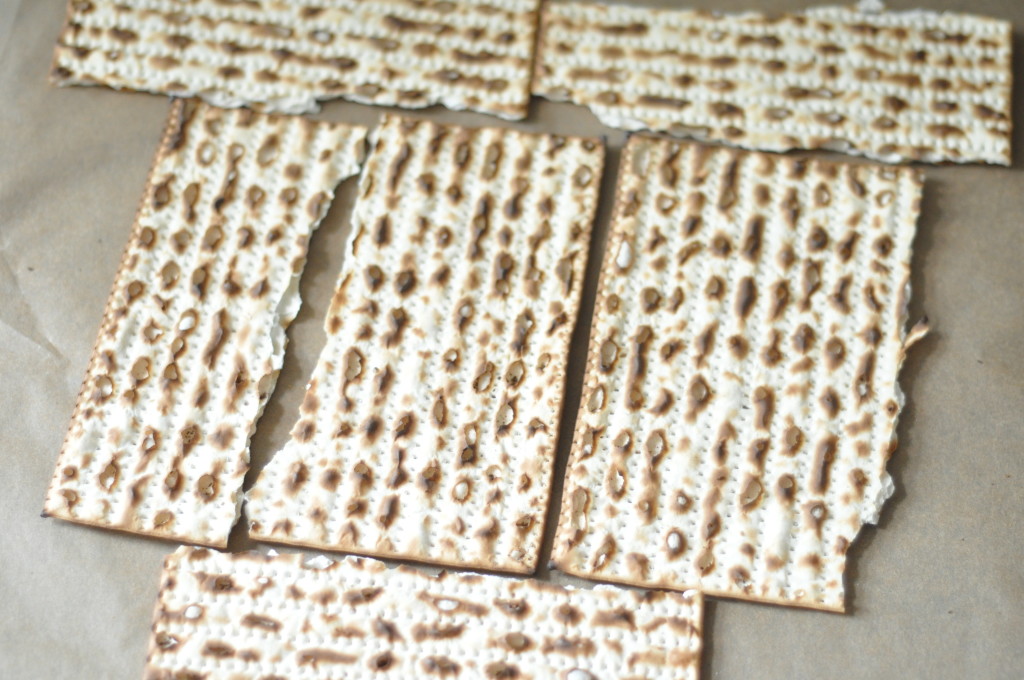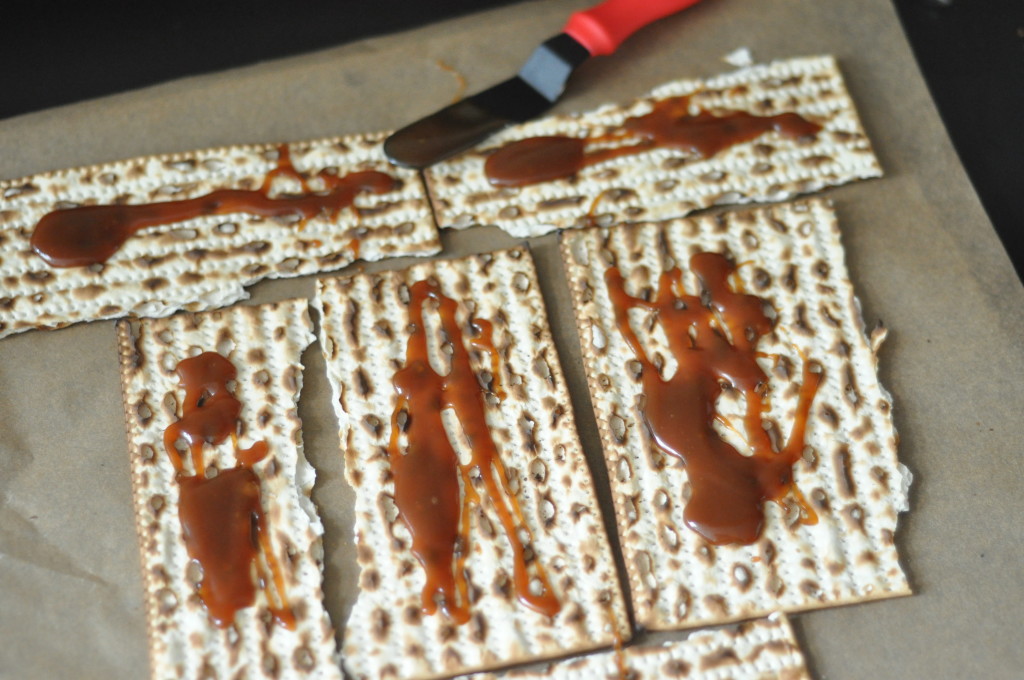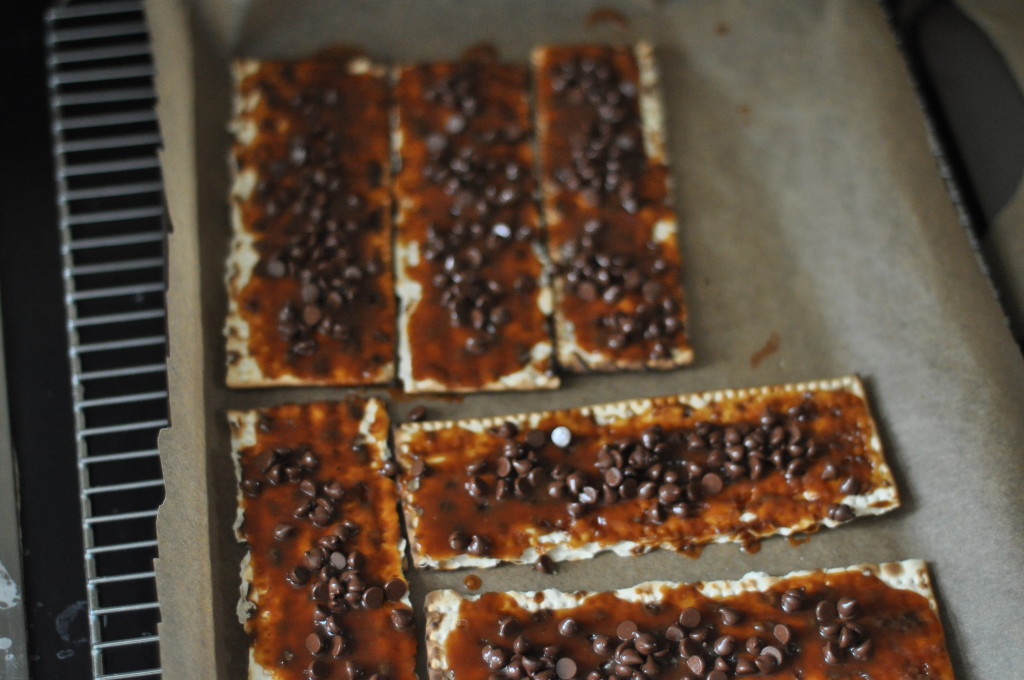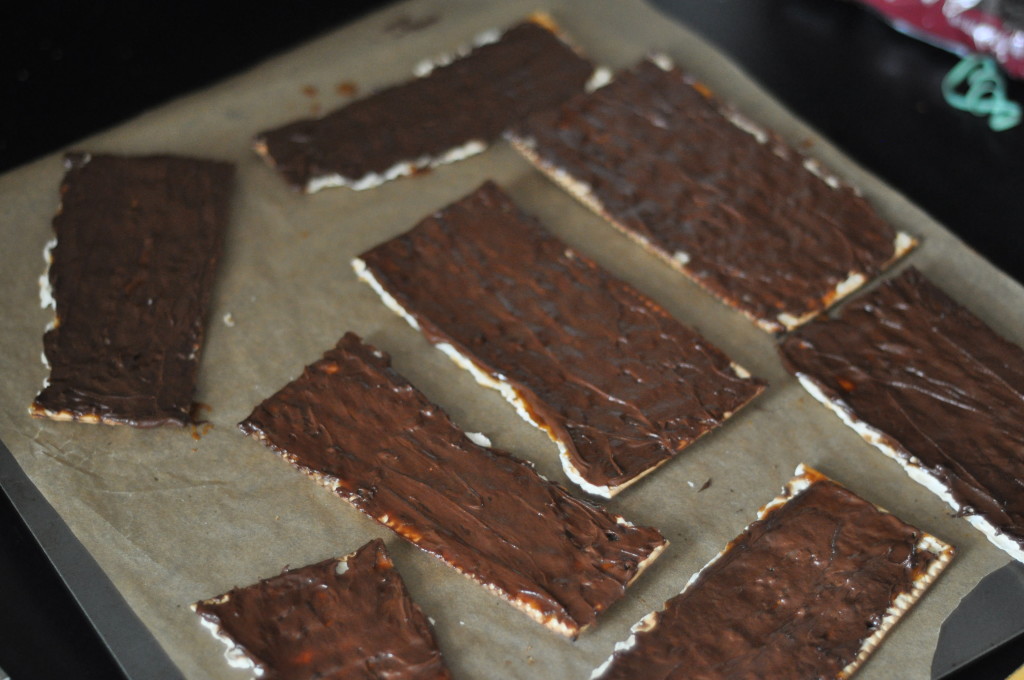 Chocolate caramel matzoh
About 1 hour prep and baking time
Ingredients
1 cup sugar
2 Tablespoons Light Corn Syrup
1/2 cup heavy cream
1 teaspoon Maldon sea salt
1/4 cup sour cream
4-6 unsalted matzohs
1 cup to 1 1/2 cups semi-sweet or milk chocolate chocolate chips, whichever you prefer
Directions:
1. First you make the sweet and salty caramel sauce.
2. In a medium saucepan, combine sugar and corn syrup with 1/4 cup of water. Cook over medium heat, stirring until the sugar dissolves. This takes around 5 minutes. Then increase the heat to high – without stirring – watch the bubbling sugar until it starts to turn an amber color. This can take another 10 minutes or so, but watch carefully so you don't burn the sugar. Quickly remove from the heat as soon as the caramel turns a warm amber color and add the cream. It will bubble up, so be careful not to burn yourself. When it settles a bit, add the salt. Whisk in the sour cream and then let cool.
3. While the caramel is cooling, line 2 cookie sheets with parchment paper. Break up matzohs and place on sheet. Heat oven to 350 degrees.
4. When the caramel is cool, use an off-set spatula to spread over the matzohs.
5. Put cookie sheets into oven. Bake for about 5 minutes until the caramel is bubbling and take out and place onto cooling rack.
6. Sprinkle the chips on top of the hot caramel and let them sit for a few minutes.
7.  Heat will soften the chips. Use the off-set spatula to spread the chocolate.
8. Place in refrigerate to cool the matzohs. Enjoy!