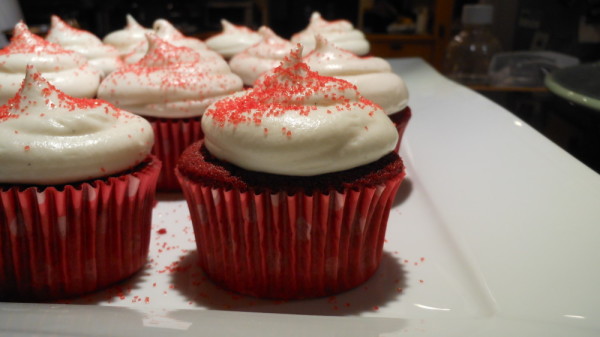 The Mystery of Red Velvet Cupcakes
Mystery novels are one of my favorite genres. Perhaps it is because, as a journalist, I often feel  I am discovering the mystery of what makes a person tick or why something matters. I report on a person or a topic, read through all my notes of those interviews, and like a puzzle, put the pieces together to create a whole picture.
It's the same with food. I wonder, who came up with this idea for this amazing dish? this delicious dessert? who was the first person who figured out that putting eggs, butter, sugar and flour together would result in a perfect ending to a meal?
What is red velvet cake, one of my favorite sweets?
The simple answer: it's chocolate cake with red food coloring. Really.
The history of the red velvet cake is not so easy to answer. There seems to many different versions of its origin. One story is that it was invented at the Waldorf-Astoria hotel. Another version is that during the time of the depression, home cooks were without sugar, so they used beet sugar to sweeten cakes. Beets are red, hence giving the cake a red hue.
The best version that I've seen is by Stella Parks, who wrote a piece for Gilt Taste on how this pretty cake came to be. She says it was an invention of southern cooks who wanted to have  "nice smooth names applied to things… hence velvet cake." Cookbooks from the early 1900's added "red" to the velvet because "red sugar" was the term used for brown sugar.
"Velvet had simply come to denote any cake with an especially fine crumb, while Red referred to "red sugar" or, in modern parlance, 'brown sugar,'" Parks wrote. Then a food coloring family trying to sell its wares, added red coloring to the cake, photographed it, and put it into grocery stores in the south, enticing house wives to give it a try. They loved it and the rest is history.
This recipe was heavily inspired by the excellent blog Pinch My Salt. I have made this recipe many times and I think the secret is using cake flour instead of all-purpose flour. The cake flour makes for a finer, softer crumb. The other key is lots of food coloring. Two bottles worth. That may seem like a lot, but it does give the cake a lovely red hue. I like to frost the cupcakes with cream cheese frosting, but regular vanilla butter cream works as well.
Red Velvet cupcakes
Makes 24 cupcakes
About 1 hour prep and baking time
2 1/2 cups sifted flour
1 teaspoon baking powder
1 teaspoon salt
3 tablespoons unsweetened cocoa powder
2 oz red food coloring (2 bottles)
1/2 cup (2 sticks) unsalted butter, room temperature
1 1/2 cups sugar
2 eggs, room temperature
1 teaspoon vanilla extract
1 cup buttermilk, at room temperature
1 teaspoon apple cider vinegar
1 teaspoon baking soda
1. Preheat oven to 350 degrees. Spray two 12-cup muffin tins with cooking spray to prevent cupcake tops from sticking. Line trays with cupcake papers.
2. Sift together the cake flour, baking powder, and salt into a medium bowl; set aside. In a small bowl, mix food coloring and cocoa powder to form a thin paste without lumps; set aside.
3. In a large bowl, using a hand mixer or stand mixer, beat butter and sugar together until light and fluffy, about three minutes. Beat in eggs, one at a time, then beat in vanilla and the red cocoa paste, scraping down the bowl with a spatula as you go. Add one third of the flour mixture to the butter mixture, beat well, then beat in half of the buttermilk. Beat in another third of flour mixture, then second half of buttermilk. End with the last third of the flour mixture, beat until well combined, making sure to scrape down the bowl with a spatula.
4. In a small bowl, mix vinegar and baking soda. It will fizz! Add vinegar mixture to the cake batter and stir well to combine. The batter will be thick. I use a small ice cream scooper to fill cupcake cups 3/4 with batter. Place muffin tins on the middle rack of a preheated 350 degree oven. Bake for approximately 20-22 minutes, rotating pans halfway through. Cupcakes are done when a toothpick inserted in the center comes out clean. Check early and don't overbake!
5. Cool the cupcakes in their tins on a wire rack for 10 minutes then remove and allow to cool completely before frosting. Frost cupcakes with cream cheese icing (recipe below) and decorate with red sprinkles if desired.
Cream Cheese Frosting
Yield: enough for 24 cupcakes. Time: 20 minutes
16 oz. cream cheese (2 packages), softened
1/2 cup unsalted butter (one stick), softened
1 teaspoon vanilla extract
2 1/2 cups powdered sugar, sifted
pinch of salt
With an electric mixer, blend together cream cheese and butter until smooth. Turn mixer to low speed and blend in powdered sugar, salt and vanilla extract. Turn mixer on high and beat until light and fluffy.