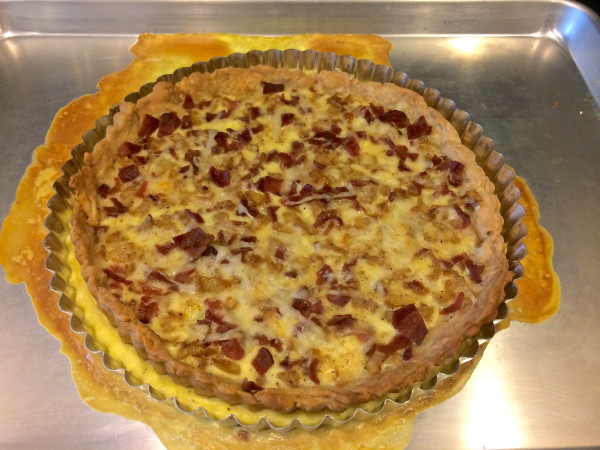 Quiche In Training
I've been encouraged many times by friends to write about my baking mistakes. It's fun to read about how someone screws up in the kitchen and then what they learn from it, right?
So, I decided this weekend to make something at home that I had learned at L'Academie de Cuisine. I thought Quiche Lorraine. It's perfect for a February Sunday brunch with my husband. But the result was…. well …more like a Quiche Lorraine tart.. (Quiche Lorraine is part of France's culinary heritage, check out a story on its history here)
The creamy egg mixture leaked all over the tart pan and onto the cookie sheet, so there wasn't much luscious eggness in the quiche. It was more onions, bacon and cheese baked on kind of a semi-soggy crust (the edges of the crust were pretty crisp and buttery though.) Not a bad combination, but it wasn't like the awesome quiche (below) I had made at school just a week earlier.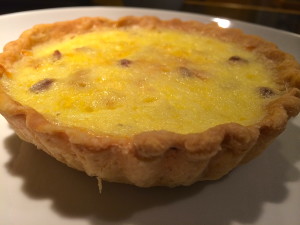 I think I know what went wrong. I used left-over dough that I had made in class and I didn't have enough for my 9-inch tart pan. The dough used in quiche is called pate brisee. It is a staple in French baking and one of the first things we learned to make. We made a big batch in class and I took home the left overs and put it in my freezer.
I let it thaw in the refrigerator on Saturday and then Sunday took it out and started rolling it into a circle as best I could. It was then that I realized I probably didn't have enough dough. I persevered anyway. I tried stretching it with my rolling pin, but it broke and fell apart. I put what I had into the pan and molded the dough to the sides. Then, I realized that I had forgotten to spray the tart pan with cooking spray. It would be impossible to get the quiche out of the pan after baking. So I dumped the dough out, sprayed the tart pan, and put the dough back in, but by then, it was more of a mess. There were many holes I tried to patch by stretching the dough. Then I put it in the oven.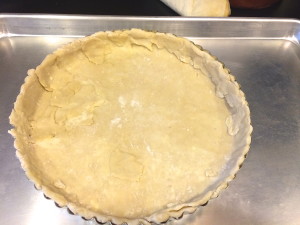 After baking it for about 35 minutes, it turned a nice light brown. But the dough had shrunk below the sides of the pan. (A trick we learned is to mold the raw dough to stick up about 1 inch over the top of the side of the tart pan to allow for the dough to shrink in the baking process, but I didn't have enough dough to do so.) I could also see that there were still holes on the bottom. I put some grated cheese on the bottom and hoped it would melt and plug the holes.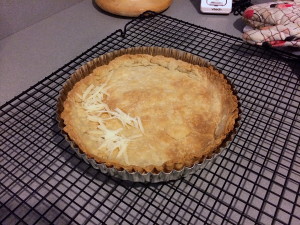 But it didn't work. When I poured the cream and milk mixture that makes a quiche into the tart, the liquid just leaked everywhere. I was pretty bummed. I put it in the oven anyway and baked what I had. It came out more like a tart than a quiche, with a nice flavor of salty turkey bacon, biting gruyere cheese and smoky onion, but it just didn't look or taste like a quiche.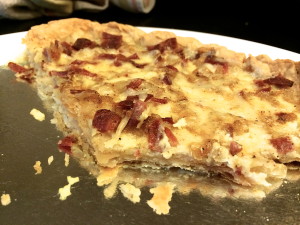 I'll just have to try again another day.
Here's the recipe for Pate Brisee and Quiche Lorraine. It's pretty time consuming. As much as a 3 day project. Our teacher, Theresa, recommends, making the pate brisee a day before and let it rest in the refrigerator. Then the next day, roll it out and bake it in the tart pan. After it cools, wrap it and let it sit another day. Then make the quiche filling and bake another 35-45 minutes, depending upon your oven.
Pate Brisee
Makes Dough For 1 9-inch Tart
8 oz (1 ½ cups) all purpose flour
4 oz (1 stick) unsalted butter, cut into ½ inch cubes
1 teaspoon salt
Up to 5 to 6 tablespoons of water
1. Combine the flour, butter, and salt in mixer bowl.
2. Put mixer at slow speed using the paddle attachment and put the butter pieces in until the mixture resembles coarse meal.
3. Add the ice water, one tablespoon at a time, just until the dough holds together when squeezed. You many not use all of the water, depending upon whether it is a cold or warm day when you make the dough.
4. Wrap the dough in plastic, and put pressure on it with your hand to form a disc. Refrigerate at least an hour, preferably overnight.
5. Roll the chilled dough to about 1/8 of inch to ¼ inch thick.
6. Line tart pan and then chill for 20 to 30 minutes in fridge or freezer.
7. To blind bake the shell (meaning without any filling), put a piece of parchment paper or aluminum foil on the chilled dough and fill with beans or pie weights
8. Bake at about 375 degrees for about 20 minutes. Then remove beans. If shell still looks raw, put beans back in and return to oven. Once the dough no longer looks raw, remove the beans and bake another 10-25 minutes until it gets a light brown color.

Quiche Lorraine
1 9-inch brisee shell, fully baked
¼ cup to ½ of grated gruyere cheese (depending upon how much cheese you like)
½ cup of diced and cooked yellow onions
¼ cup to ½ cup of diced bacon (Applewood or turkey, depending upon preference)
¾ cup whole or 2 percent milk
¾ cup half and half, or heavy cream
3 large eggs
spices to taste (salt, white pepper, nutmeg)
1. Heat oven to 300 to 325 degrees.
2. Whisk the eggs in a bowl, then pour through a strainer into another bowl.
3. Add the milk and cream to the strained egg mixture.
4. Sprinkle cheese on the bottom of the tart shell
5. Add the bacon and onion. Top with more cheese. Then add a dash of salt, pepper and nutmeg (careful with salt as the bacon and cheese will be salty on their own)
6. Carefully pour in the egg and cream mixture into the tart and then bake until the center of the quiche is just set (it will jiggle when tapped) – around 35 to 45 minutes, depending upon oven
7. Cool to room temperature before cutting