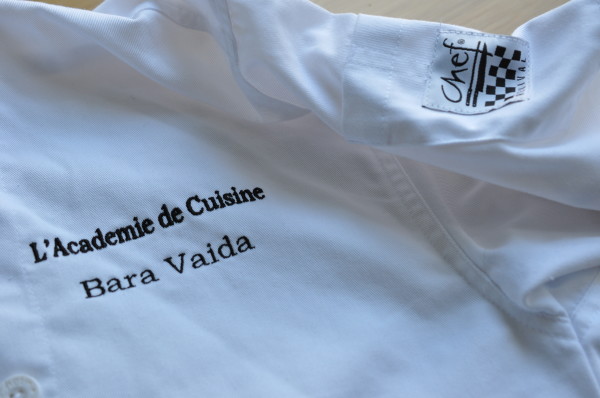 Pastries 101
On January 15, I began my adventure at culinary school in Gaithersburg, Md.
I'm taking a 20-week advanced recreational course in pastry arts on Wednesday evenings at L'Academie Cuisine, the best-known cooking school in the D.C. area.
It's a crazy 1-hour drive from D.C. because of rush hour traffic, but I hope it will be totally worth it. At the end of the program (which ends in May!..), I'll have earned a certificate indicating I received 60 hours of training in professional pastry arts. I'll be able to speak with more authority when writing about pastry and dessert and I hope I'll meet some more people in the D.C. food world.
To enroll in the class, we had to pay an extra (not voluntary) fee for the chef's jacket above, and an apron. We also had to pay for a pastry toolbox, filled with tools that we would be needing throughout the course. When I read about the pastry toolbox, I was so excited about the idea of having this bag with a bunch of new pastry tools. So I was a little disappointed when we arrived on our first day, and it turned out that the toolbox, was well.. an actual toolbox.
I'm not psyched to carry that to each class, so I'm going to try to find some other kind of bag. Jonah and I already own the majority of tools in the box in our kitchen, but still it's cool to have a pastry-only bag of tools. Included were: a zester, 3 knives: paring, serrated and chef's; a pastry bag and 3 tips, a pizza cutter, a bench scraper, a pair of scissors, and a tin of circular cookie cutters. I put a list together of the many tools I have found useful over the years here.
Our teacher, Theresa Souther, is the head of the pastry arts program for the school and she says that by the end of the class, we'll be able to look at recipes and figure out what is wrong with them and know how to fix them. As an indication of her informality, she says to call her "Theresa" not "Chef Theresa." I hope to pass along what I learn.