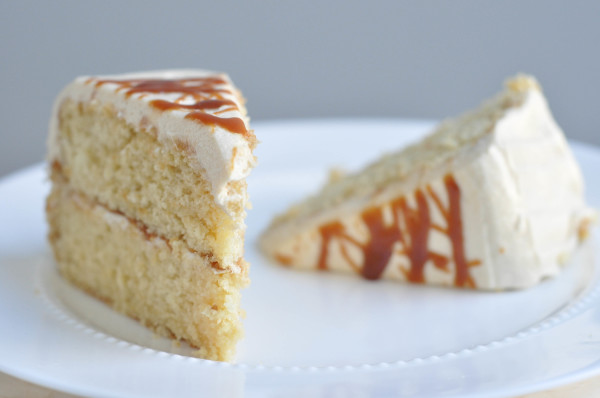 Nantucket Sweet & Salty Caramel Cake
Continuing with the sweet and salty theme from a few weeks ago, I was inspired to make this cake after reading "Ahab's Wife" by Sena Jeter Naslund. It's a story about the wife of Captain Ahab, of Moby Dick fame. Though I've never read Moby Dick, I do love it when authors take a character that had a tiny role in a famous book and then create a whole new story around them. Author Jean Rhys did this so well with "Wide Sargasso Sea," the story of Mr. Rochester's crazy wife in the attic from "Jane Eyre" – an all time favorite book when I was a teenager.
Ahab's wife, Una, was barely mentioned in Herman Melville's epic story about a macho captain of a whale hunting ship, according to this New York Times review of the book. By creating a whole story about Una, Jeter Naslund gave Ahab's story a feminist slant and weaved a beautiful tale of compassion versus Melville's story about obsession and revenge.
The book is LONG – more than 600 pages – and I had trouble finishing it. It took me probably a month to get through. However, I admired the lyrical quality of Sena Jeter's writing. She has passages like these that that resonate for me:
"Even as a child, I wanted to know what words meant and marked those occasions when I did learn as memorable."
I myself remember first learning the meaning of words and the excitement I felt.
Food and starvation play a very big role in the story. In an early part of the story, Una is marooned on a life boat after the whaling ship she is riding on is rammed and sunk by a whale. She and two others almost starve until they resort to eating the flesh of fellow passengers after they die. It's hard to read, but it plays a backdrop in the rest of the story as Una tries to live with what she did to stay alive.
Later in the story, when she is living on Nantucket (an island off of Cape Cod in Massachusetts) and married to Ahab, Una has lots of money and plenty of food. She is able to entertain and pay for large meals for her friends and neighbors and to show her love, makes them a cake.
As I was reading this book, I was also flipping through the cookbook "Baked Elements" by Matt Lewis and Renato Poliafito. They divide their book into favorite dessert elements, including caramel. The first recipe in the section is for Antique Caramel Cake, with salted caramel drizzled on top. The recipe comes from the mother of a friend living in Mississippi.
Una, too, was from the South. I decided to give the recipe a try.
I'm so glad I did. The cake was amazing. Perhaps the best I've ever made. The cake is soft and sweet, but not too sweet. It's also tangy from the salt and cream cheese in the icing. I was so excited that my dog wanted a piece!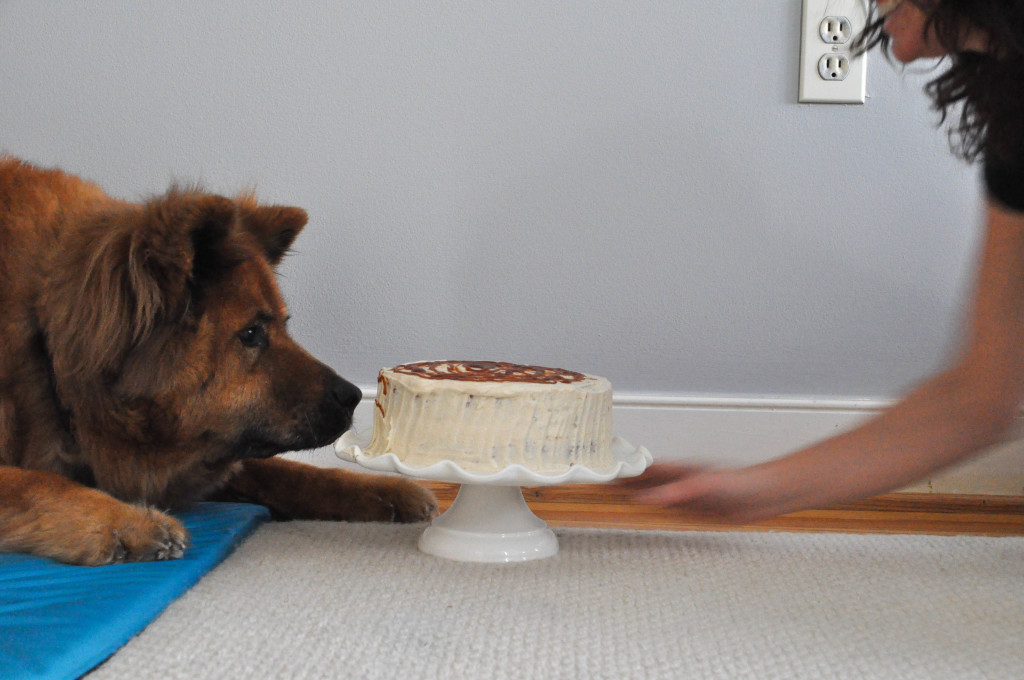 One of the keys to making the cake caramel is the use of brown sugar. That sugar has a depth and taste that is somehow richer than white sugar. This recipe also reminded me of red velvet cake, another southern cake that calls for mixing a little vinegar with baking soda. I added vanilla and more confectioner's sugar to the icing because I felt it was missing depth and sweetness without it. Enjoy!
Sweet & Salty Caramel Cake
Makes 1 8-inch 2-layer cake
About 2 hours prep and baking time
Adapted from
Baked Elements
"Antique Caramel Cake"
For the Cake:
4 ounces (1 stick) unsalted butter, softened, cut into 1⁄2-inch cubes
1 1⁄4 cups granulated sugar
1⁄2 cup firmly packed light brown sugar
3 large eggs
2 cups all-purpose flour, sifted
1 cup well-shaken buttermilk
1 teaspoon baking soda
1 tablespoon white vinegar 
For the Caramel Frosting:
1⁄4 cup firmly packed dark brown sugar
5 ounces (1 1⁄4 sticks) unsalted butter, at room temperature, cut into 1⁄2-inch cubes, divided
1⁄3 cup heavy cream
8 ounces cream cheese, softened
1⁄2 teaspoon salt
1/2 teaspoon vanilla
3 cups confectioners' sugar, sifted
Steps:
1.Preheat the oven to 350°F.
2. Butter two 8-inch round cake pans, line them with parchment paper, and butter the parchment. Dust the parchment with flour and knock out the excess flour.
3. In the bowl of a standing mixer fitted with the paddle attachment, beat the butter on medium speed until creamy, about 1 minute. Add both sugars and beat until fluffy, about 3 minutes. Scrape down the sides and bottom of the bowl and add the eggs, one at a time, beating well after each addition. Scrape down the bowl again and add the flour in three parts, alternating with the buttermilk, beginning and ending with the flour.
4. In a small bowl or cup, dissolve the baking soda in the vinegar and beat it into the batter until just combined.
5. Divide the batter between the prepared pans and smooth the tops. Bake for 32-37 minutes, rotating the pans halfway through the baking time, until the cake tops are slightly browned and a toothpick inserted in the center of the cake comes out clean.
6. Transfer the pans to wire racks and until completely cooled. Turn the cakes out onto the racks. Remove the parchment.
7. Make the Caramel Frosting: In a medium saucepan over medium heat, stir together the brown sugar and 2 ounces (1⁄2 stick) of the butter until melted and combined. Bring the mixture to a boil and boil for 10 to 15 seconds.
8. Remove from the heat, whisk in the cream, and transfer the mixture to a bowl to cool completely. (Note: To cool the mixture quickly for immediate use, you can stir or whisk the mixture vigorously to release excess heat or you can nestle the bowl with the mixture in a larger bowl filled halfway with ice.)
9. Once the brown sugar mixture is nearly cool, place the remaining 3 ounces of butter in the bowl of a standing mixer fitted with the paddle attachment and beat until it is lump free. Add the cream cheese, vanilla and salt and continue beating until mixture is smooth. Scrape down the sides and bottom of the bowl and beat again for 15 seconds.
10. Turn the mixer to low and stream in the brown sugar mixture. Scrape down the bowl again, add the confectioners' sugar, and beat until smooth. If the mixture feels too loose, refrigerate it for 5 to 10 minutes until it firms up.
11. Assemble the cake: Place one cake layer on a serving platter. Trim the top to create a flat surface and evenly spread about 3⁄4 cup frosting on top. Place the next layer on top, then trim and frost it the same way. Drizzle caramel sauce on cake. The cake can be stored in the refrigerator, covered with a cake dome or in a cake saver, for up to 3 days. Allow it to come to almost room temperature before serving.
See recipe for caramel sauce below.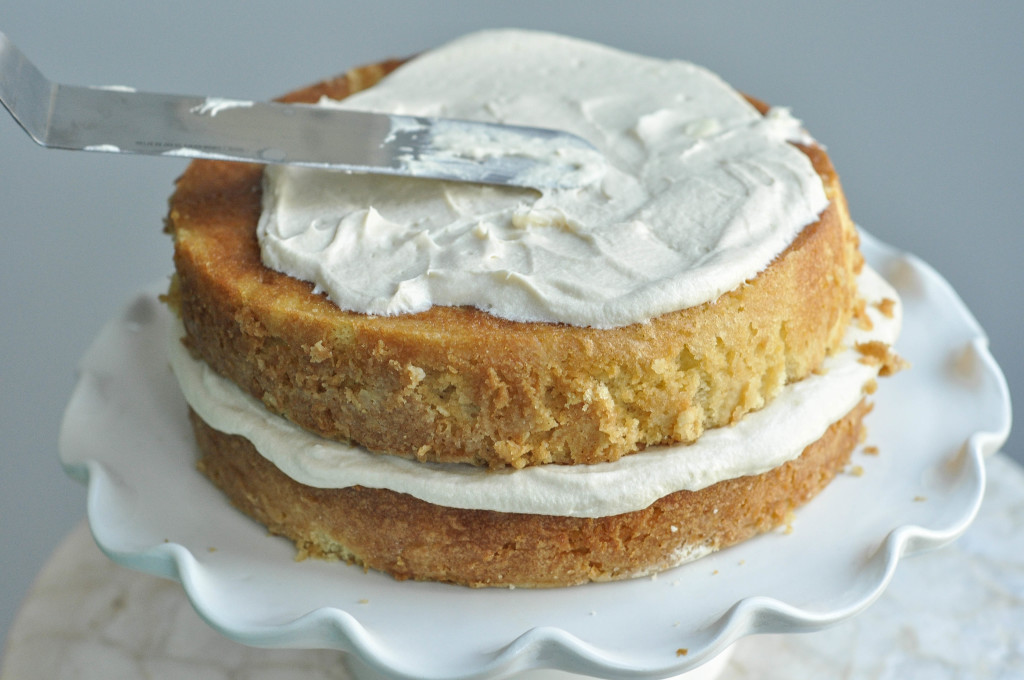 Frost the sides of the cake with the remaining frosting.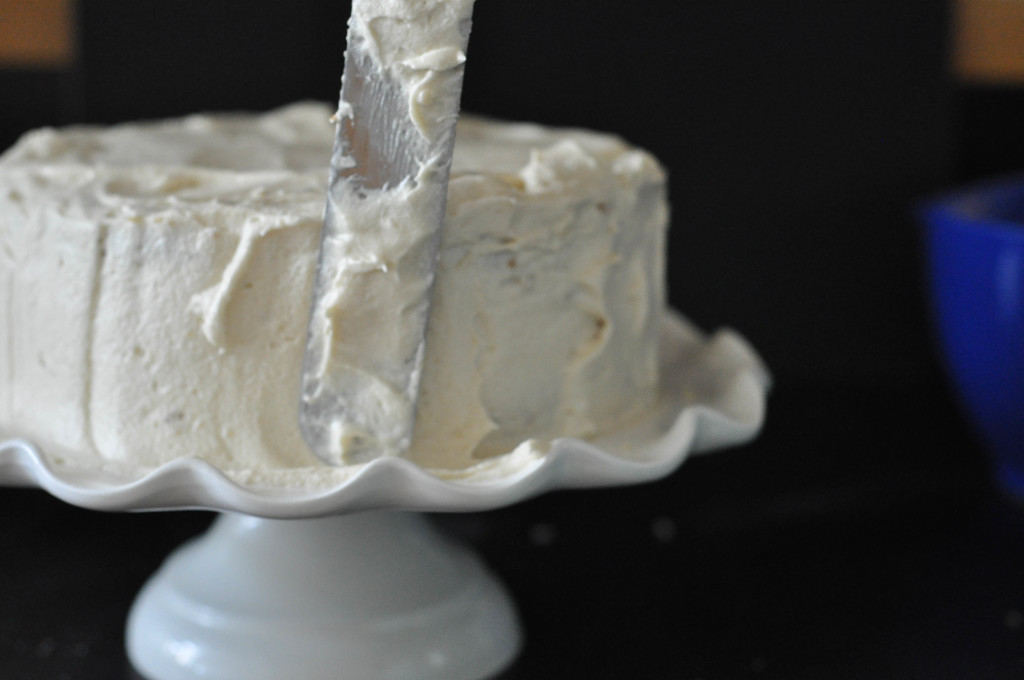 Sweet & Salty Caramel Sauce
Ingredients:
1 cup sugar
2 tablespoons light corn syrup
1⁄2 cup heavy cream
1 teaspoon fleur de sel
1⁄4 cup sour cream
Steps:
1. In a medium saucepan, combine the sugar and corn syrup with 1⁄4 cup water. Stir the mixture gently so you don't splash any of it up on the sides of the pan. Cook over medium-high heat, stirring until the sugar dissolves. Increase the heat to high and, without stirring, cook over high heat until the mixture is dark amber in color (keep a close eye on the caramel at all times, as it goes from golden brown to black and burnt very quickly) or just shy of 350 degrees F on a candy thermometer, 6 to 8 minutes. Remove from the heat, and slowly add the cream (be careful, as it will bubble up) and then the fleur de sel. Whisk in the sour cream. Set aside to cool.
2. Refrigerate for 15 minutes before serving. The sauce can be stored in the refrigerator, tightly covered, for up to 10 days.
3. Once caramel is cooled, create a cone with parchment paper and spoon caramel sauce into cone. Then cut the corner. Drizzle caramel sauce (either in a zigzag or circular pattern).
And if you are stymied on how to create a cone, here's a video on how to create a parchment cone.