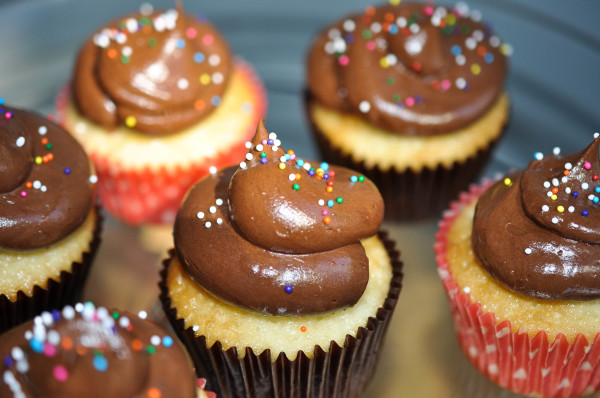 Egg Yolks And The Science of Good Cooking
Cook's Illustrated, my consistent go-to source for baking recipes, published a book last year called "The Science of Good Cooking." The book has all kinds of great information about what actually happens to food in cooking and baking, why things can go wrong, and how to fix it.
I'm such a geek about understanding how baking works, that I spent many hours amusing myself reading this book.  Among the things I learned: using eggs from free-range chickens really matters – especially when baking yellow cakes.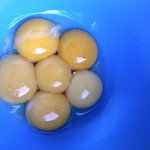 That's because standard eggs aren't particularly yellow. Eggs from free-range chickens are yellow. As you can see at left, the two eggs in the top right corner of the bowl are a golden YELLOW. When I made this recipe, I only had two eggs left in my refrigerator from the farmer's market. The rest of my eggs came from Trader Joe's. They aren't organic and they are pale.
According to Cook's Illustrated, it's all about the food that free-range chickens get to eat.  Bright yellow eggs mean that the chickens have been well-fed with carotenoids, which can be found in colorful plants around the farmyard. Eggs from these hens make yellow cakes truly yellow, while standard eggs make for a pale, yellow cake.
Plus farmer's market, free-range chicken eggs taste better.
So if you can, use eggs from free-range chickens.
The ingredients for the cupcake recipe below can also be used for a 9-inch, two-layer cake as well. Just increase the baking time around 5-10 minutes, depending upon your oven.
I used a Cook's Illustrated chocolate icing recipe, which is crazy, easy to make in a food processor. Two things to know: the recipe calls for corn syrup. Now generally I avoid corn syrup as an ingredient in processed food, but it is useful for making incredibly smooth icing from scratch. This recipe also gives you a choice of the type of chocolate to use, either milk chocolate or dark chocolate.  Either work. It's totally up to your personal taste.
Yellow cupcakes,
chocolate icing

Makes 24 cupcakes
About 1 hour prep and baking time
Cake Ingredients:
2 3/4 cups (11 ounces) all purpose flour
2 teaspoons baking powder
1/2 teaspoon kosher salt
3 large eggs (organic, free-range if possible)
4 large egg yolks (organic, free-range if possible)
12 tablespoons (6 oz) unsalted butter, room temperature
2 cups (14 oz) of white granulated sugar
1/2 cup (4 oz) vegetable oil
3/4 cup whole milk, room temperature
1 tablespoon vanilla
1. Preheat oven to 350 degrees. Fill 2 cupcake pans with cupcake liners.
2. Put flour, baking powder  in a bowl and use a whisk for about 30 seconds to mix them together. Set aside.
3. In a stand mixer, cream butter and sugar together with the paddle attachment until light and fluffy. This takes about 3 to 5 minutes.
4. Scrape down the sides of the bowl. Add the salt to the creamed butter mixture.
5. Add eggs and yolks, one a time while mixer is on low speed. Add the oil. When all are added, continue to mix at low speed for about 30 seconds until the eggs are incorporated.
6. Keep the mixer at low speed. Slowly add about half the flour mixture. Then pour in the milk and vanilla. When they are incorporated, slowly add the rest of the flour.
7. Scrape down sides of bowl and turn on mixer again. Continue until all the ingredients are mixed together.
8. Using an ice cream scooper, fill the cupcake liners about 3/4 of the way full. Bake for about 13-15 minutes until the middle of the cupcakes bounce back and a clean toothpick inserted in the middle of a few cupcakes comes out clean.
9. Let cool for at least an hour.
Chocolate Icing Ingredients
20 tablespoons (2 1/2 sticks) unsalted butter, room temperature
1 cup (4 oz) confectioner's sugar
3/4 (2 1/4 oz) Dutch-processed cocoa
1/8 teaspoon table salt
3/4 cup light corn syrup
1 teaspoon vanilla extract
8 oz milk, bittersweet or semisweet chocolate melted and cooled
1. In a food processor, mix butter, sugar, cocoa and salt until smooth. About 30 seconds.
2. Add corn syrup and vanilla. Pulse until smooth.
3. Add melted chocolate until smooth. Scrape the sides of the food processor, but be careful not to knock out the blade in the processor while doing so.
4. Icing should be done in about 1 minute. It can be kept at room temperature for about 3 hours before frosting and refrigerated for up to 3 days.  Just bring to room temperature before using.