About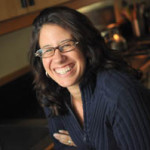 My name is Bara Vaida and this is my journal of baking inspirations sparked by books, magazines, newspaper stories and great literature. I'm a reader in my day job – I am a freelance healthcare journalist in Washington D.C. – and I devour books and play crossword puzzles at night. I love words. I also love dessert and making it.
I always knew I loved sweets but I didn't know how much I loved baking until 2007, when my husband Jonah and I received a Kitchen Aid Mix Master as a wedding present. I also got two boxes of the Barefoot Contessa's chocolate cake cupcake mix as a gift. I'd never owned or used a mixer in my life and I was amazed at how easy the mixer made the process of creaming the butter and mixing the ingredients to create a heavenly batter. The cupcakes came out delicious and I decided I wanted to learn how to make them from scratch. The Barefoot Contessa's real name is Ina Garten, so I went to the web and found her recipe for "Beatty's chocolate cake." It was an amazingly moist, rich chocolate cake, and easy to make in my new mixer. I got rave reviews from my friends who arrived for dinner.
And then I wanted to make another cake from scratch. I became addicted to the groans of happiness my creations elicit from my husband, friends, neighbors and dinner guests.
Since then, I have read many books about baking, experimented with creating cakes, cookies and candy confections. I have never again made any baked item, confection or pastry from a box. I get most of my recipes on this site from cookbooks and websites and from a pastry arts class I am taking at L'Academie de Cuisine, a local culinary program.
Sometimes I tweak the recipes, meaning I change an ingredient or two, based on what I found worked best in my home kitchen. I have a Dacor convection oven, that runs a bit cool, and thus my baking times are approximate, though the temperatures are accurate.
This blog is a space for me to expand my creative writing, as well as an opportunity to do fun things with my camera, a Nikon 5000, and a macro lens. I plan to post recipes that may inspire readers to head to the kitchen or the local bakery. This journal isn't a finished product and I welcome feedback.
James Beard said of the great food writer M.F.K. Fisher: "She has the effect of sending the reader away with a desire to love better and live more fully." I hope that I can do the same for my readers.